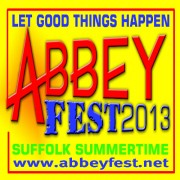 Abbey Festival Tickets
We're pleased to announce that Abbey Fest returns to Bury St. Edmunds on 19-21 July 2013.

Three days of world class entertainment will be brought t... Read moreo you in the setting of the beautiful Abbey Gardens. For those that attended last years' exceptional shows, it was without doubt the highlight of their year.

This years Abbey Festival headliners are:

CHAS & DAVE - the legendary Chas & Dave are back by demand of their loyal fans with Dave deciding to come out of retirement. Chas & Dave began writing and performing songs together in 1972, having been friends since the early sixties. They reached the top twenty in 1979 with "GERTCHA", which became a nationwide catchphrase. This was followed by "THE SIDEBOARD SONG" (GOT MY BEER IN THE SIDEBOARD HERE). In 1980 they hit the charts with "RABBIT", which reached No. 8 in the charts and a No. 2 record in 1982 "AIN'T NO PLEASING YOU". This was followed by further hits "MARGATE", &"LONDON GIRLS" In 1986 they had a top six record with "SNOOKER LOOPY". They have also written title songs for TV shows 'Till Death Do Us Part' and 'Only Fools & Horses'. Chas 'n' Dave are great musicians and know how to give an audience a good time. They have gained a cult audience of both young and old and due to public demand they are about to be seen together on stage once more. This a very special 'all hits show.

THE DUBLINERS ---A very special DUBLINER's LEGENDS show- Featuring Cannon, Campbell, Watchorn & O'Connor . In 2012 The Dubliners celebrated 50 years on the road and were honoured by the BBC Folk Awards with a 'lifetime Achievement Special Award' but following the sudden death of founding member Barney McKenna and John Sheahan's decision to retire it was agreed that The Dubliners, as a touring band, would come to an end. THE DUBLINER'S LEGEND Show features Sean Cannon, Eamonn Campbell, Patsy Watchorn & Gerry O'Conner, have over 60 years of performing with The Dubliners between them and will continue to play all the classic songs and ballads known the world over; Whiskey in The Jar, Dirty Old Town, The Wild Rover, Seven Drunken Nights, The Rare Auld Times, Molly Malone, The Irish Rover, Black Velvet Band & many more. This is the only Summer 2013 UK festival appearance so don't miss this exclusive rare opportunity.

KATE RUSBY BAND - 'Everybody loves and respects Kate Rusby, not just for her lovely voice, but for the way she has moved folk forward while remaining true to tradition…' The defining voice of contemporary English Folk Music, Kate Rusby's exquisite interpretations of Traditional songs and finely wrought self-penned tunes have won her an audience that reaches beyond the genre. A rare achievement for a folk artist but entirely understandable given Rusby's expressive vocals that invest whatever she sings with irresistible emotional depth. After celebrating twenty years in the music industry in 2012, Kate is taking a well earned rest from touring for the first half of the year concentrating on other projects. Summer 2013 sees her return to a few carefully selected festivals/outdoor concerts before embarking on her ever popular Autumn tour in mid September. As ever, Kate will be joined on stage by the cream of British folk musicians who form part of her band. Rusby's wondrous singing and hugely engaging Yorkshire wit and the intuitive support of the band ensure that audiences will be treated to a truly remarkable and unforgettable concert experience.
Dates and Tickets for Abbey Festival
Sorry we currently have no dates available for Abbey Festival.
© 2016 Gigantic Tickets Limited. All rights reserved.