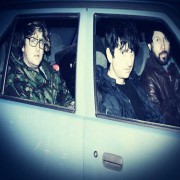 Young Knives Tickets
We are Young Knives: Henry, House of Lords and Ollie. We are three weirdos from the East Midlands. We have been around forever and made four pretty ne... Read moreat albums and a bunch of EPs. In 2013 we released our best album ever, called Sick Octave. Sure lots of people thought it would be some merry chant-along post-punk thing, but it was in reality a nightmare journey through our filthy minds. It's good though, a bit different and that.
In November 2013 we took Sick Octave on the road as a stage show. It had nudity, bad language, synths and a lot of noise. In March 2014 we have upped our game a bit with Sicker Octave. This time it will be a perfect match of the darker bits of our old albums (Voices of Animals and Men, Superabundance and Ornaments from the Silver Arcade) and Sick Octave, but it will have more blood, more vomit, more nudity. It's gonna be like an orgy full of Morris dancers where a psychopath turns up with a bag of rabid bats.

Dates and Tickets for Young Knives
Sorry we currently have no dates available for Young Knives.
© 2016 Gigantic Tickets Limited. All rights reserved.